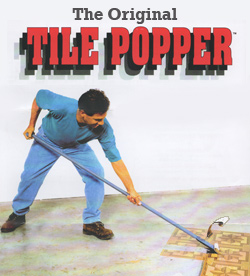 The Original TILE POPPER (TM) Is a high performance tool which saves time, cuts effort and yields quick results. Its unique design provides great mobility with NO mechanical breakdowns.

The TILE POPPER's 1-inch, Solid steel construction delivers tremendous power and long-term
durability. Fabricated by certified welders, the TILE POPPER is manufactured with full penetration
welds In critical areas for outstanding strength and reliability.
Used with our extra sharp, heattreated steel blades, the TILE POPPER provides fast and easy removal of a variety of materials, Including:
Vinyl & Asphalt Tile
Linoleum
Concrete Spurs
Adhesives & Mastics
Roofing Materials
Glued Down Carpeting
Sheet Goods
Parquet F looring
Plant Roots
---