American Coatings Corporation's formula for success has always been relatively simple…. lead the pack rather than follow it.
We research and produce groundbreaking environmental control products while our competitors simply react and copy.
Since 1979, American Coatings Corporation's products and procedures have set the standard for excellence throughout the Environmental Control Industry.  Whether it has been Asbestos Abatement, Mold Remediation, or corrective treatments for Lead Based Paint, American Coatings Corporation has been at the forefront in providing products, service and technology to thousands of environmental professionals.
Our commitment to research, as well as responding to the invaluable feedback of our customers, has enabled American Coatings Corporation to develop innovative concepts and methodologies that have been implemented in the Asbestos Abatement profession for more than 28 years. 
Here are just a few: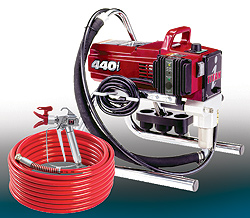 FREE! Titan Sprayer with
qualifying purchase of
ACC Products.


Utilizing the physical and structural characteristics inherent to asbestos fibers, American Coatings Corporation invented EPA-55, our Patented Asbestos Removal / Wetting Agent that thoroughly "wets-out" contaminated substrates and keeps them wet for extended periods.

Recognizing the need for creating safer environments following asbestos removal, American Coatings Corporation, in conjunction with a key international contracting company, developed "lock down" encapsulation as a final measure of protection within the work area.
Responding to the needs of a major city school system, ACC invented and patented the Earth-Kote Process, a 3-step system for treating asbestos contaminated soil in specific areas.
American Coatings Corporation submitted the only product, CC-2B, that was described as being "Highly Acceptable" during the original U.S.E.P.A. testing program, while more than 90% of the competitive materials were rated as being either "marginally acceptable" or were categorically rejected.
Over the years, our product mix has evolved into providing an unparalleled tool for removing floor tiles, The Tile Popper, effective biodegradable and eco-friendly mastic removal compositions, and a complete line of advanced Mold Remediation coatings and sanitizers.  We are proud of the distinction our products have earned as being the most dominant in their class and we strive to create new resources for environmental control.
Our products easily outperform the competition in the field.  How do we know?  Our clients and professional contractors have told us so.  We're proud of that!
Discover American Coatings Corporation…
...We are a great company to find.